Building Worker Cooperative Futures for NYC
In a world that has distorted the essential value of Black and Immigrant labor – worker cooperatives are putting an end to business as usual: they are controlling the terms of their labor through collective ownership. As the trade association representing over 2,000 worker-owners–majority of whom are Black, Immigrant, and women of color– the NYC Network for Worker Cooperatives (NYC NoWC) builds worker cooperative power through member-driven advocacy, educational trainings, and resources for and by worker-owners. We are committed to a liberatory cooperative future, and we stand guided by a movement of worker-owners building the solidarity economy we need now more than ever.
However, it takes a village for this work to come to full fruition. Starting today, we are reaching out to our network to support our NYC COOPERATIVE FUTURES fundraising campaign to raise $30,000 by December 9th 2021. Will you make a donation to help us reach our goal?
2021: Investing in Solutions
The NYC worker cooperative movement is powered predominantly by frontline workers–many of whom were impacted the quickest and hardest by the challenges since COVID-19. After a year of investing toward solution-oriented strategies to empower the coop movement for the long haul, NYC NoWC has: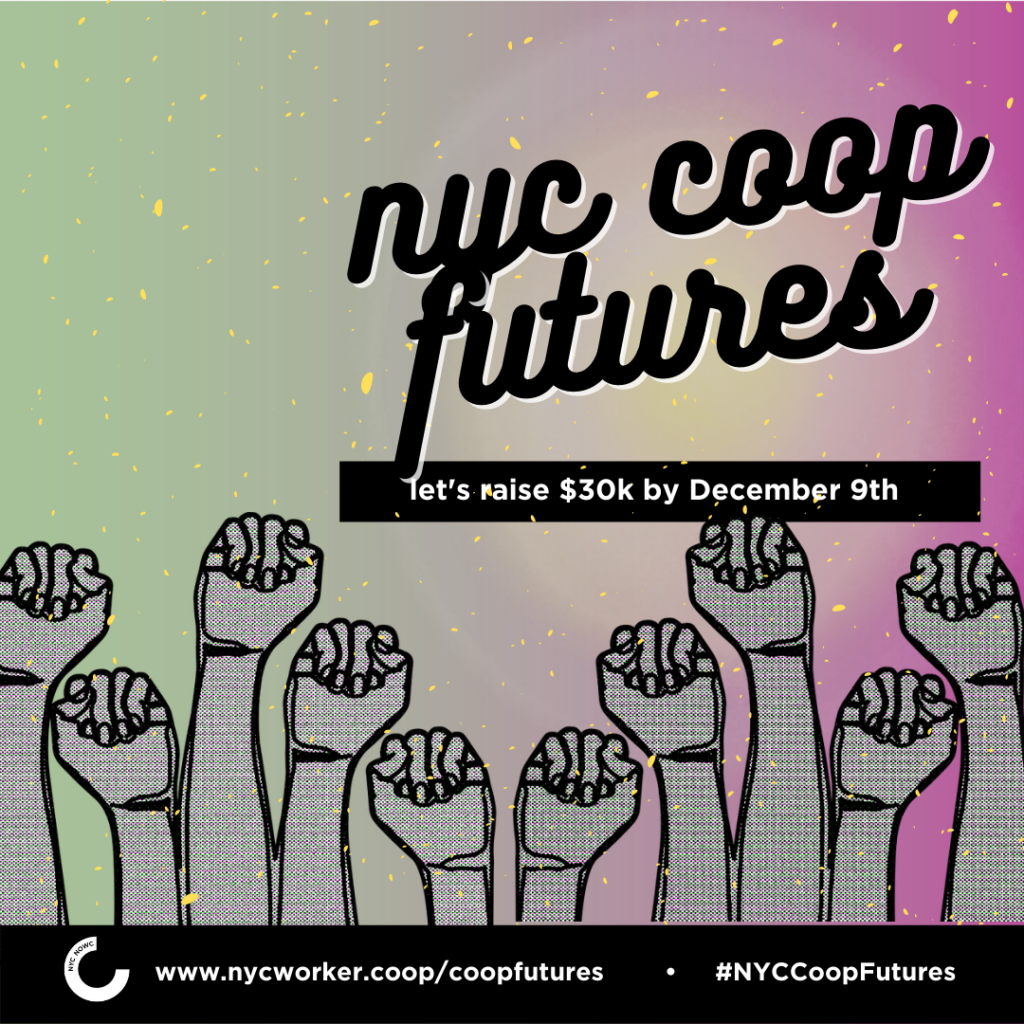 Hired our first ever Worker Co-op Policy Advocate & newest Membership Director,

Melat Seyoum & Emmanuel Pardilla, two staff members rooted in local organizing who will deepen capacity to build co-op power with our partners & member base.
Launched NYC's Future is Cooperative: A Policy Platform for and by Worker Co-ops with the endorsement of over 60 members & political candidates. Guided by our membership, this platform is a reflection of multiple years of base building work across diverse co-op sectors who have identified common needs & solutions.

Recovered and enhanced municipal funding toward worker cooperative development across NYC

, through the Worker Cooperative Business Development Initiative. While city budget cuts impacted the initiative in the wake of COVID-19, NYC NoWC played a critical role- as the lead coordinator & advocate- to secure $3.77 million of public investment–funds which go toward 13 organizations building NYC cooperative futures.

Invested in bilingual trainings & network gatherings by and for worker-owners

such as Training Collective's Foundations for Worker Cooperatives — a series driven for and by NYC worker cooperators– which engaged over 100 people in NYC and another 100 individuals from around the world!
Next Year and Onward
By donating to this campaign now, your participation will help transition our economy toward one that is guided by workers and cooperation. In 2022, we will do this by:
Growing our elected Advocacy Council of worker-owners. Through our Advocacy Council, we center and nurture frontline leadership and ensure that worker-owners actively set the priorities for cooperative futures in important policy spaces.

Ensuring equitable co-op regulation in the marijuana industry

. With the legalization of marijuana, NYC NoWC has played a critical role in creating cooperative licensing. This work must be emphasized to ensure equity and repair from the racist legacy of the war on drugs.

Making Bigger & Bolder Demands of NYC political leadership

. Aided with the publication of our Policy Platform, we are poised to lobby and demand deeper commitments toward a solidarity economy from our next wave of local politicians.

Relaunching our NYC-wide Coop Conference

to bring together worker-owners, supporters, and cooperators from all sectors of the solidarity
At NYC NoWC, we believe that the future is cooperative and that starts now. Thanks for supporting our movement!