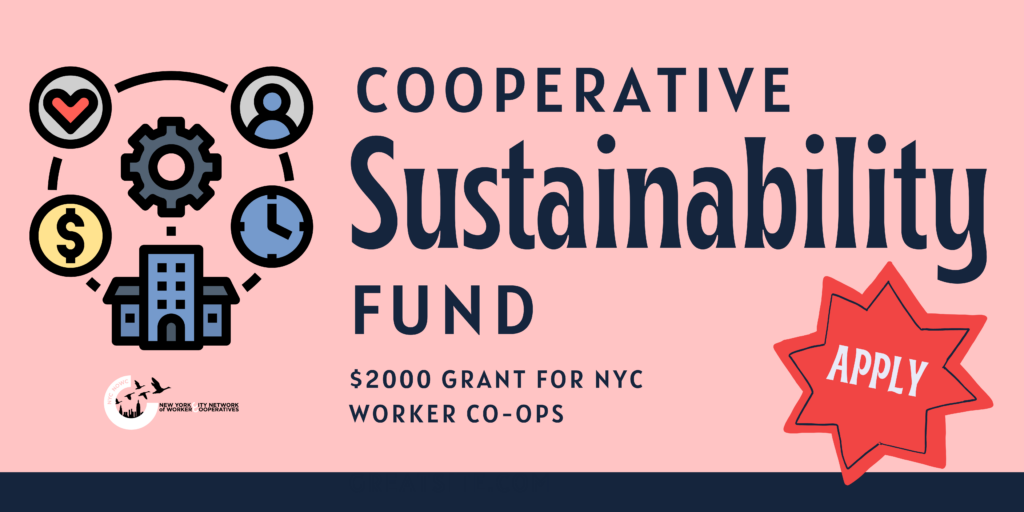 The Cooperative Sustainability Fund supports worker cooperatives to enhance integral aspects of their business utilizing professional services. The fund can cover up to $2000 of services. This grant gives worker cooperatives the opportunity to identify area(s) of needed support and outcomes they are looking to achieve to make their business sustainable.
UP TO $2,000 | APPLICATIONS CLOSE | CHECK BACK EARLY SPRING '23
MARKETING STRATEGY & BRANDING
If your cooperative needs to hire a marketing consultant or graphic designer to help develop a marketing plan or revamp your image.

FINANCIAL MANAGEMENT
If your cooperative needs to hire a finance consultant to build the financial literacy of worker-owners, implement payroll protocols, and develop open book management systems.
WEB DEVELOPMENT
If your cooperative needs to create a website for your business

STRATEGIC PLANNING
If your cooperative needs a business consultant to develop a business plan, build worker-owner consciousness or to receive direct startup support.

HUMAN RESOURCES
If your cooperative needs to hire a consultant to lead a business retreat to update employee manuals, employee benefits and/or any other HR needs.

CONFLICT MANAGEMENT
If your cooperative needs to hire an independent mediator to help facilitate a conflict resolution process.

LEADERSHIP TRAINING
If your cooperative needs to hire a consultant or trainer to train members internally on a specific and pressing need.

MENTORSHIP
Alternatively, your cooperative can recruit a mentor to train worker-owners on how to best address the marketing, financial, and other identified needs of your business.
OTHER PROJECTS
If your cooperative has any other project that requires hiring a consultant or professional services provider can with a clearly defined scope.
Any worker cooperative located in NYC. Cooperatives may be a pre-start up, startup or an operating worker-owned business.
To apply, cooperatives must have an identified vendor as well as a description & invoice of their prospective services.
Cooperatives must have a follow-up plan and create room in their budgets for these needs in future years if this will be a recurring need or if services exceed $2000.
Members of NYC NOWC
Have not received the fund before
Black and Indigenous-led
Trans and LGBQ-led
Women-led
Immigrant led
We encourage the applicant to have the vendor identified. If a vendor has not been identified, NYC NOWC will work with the applicant to determine an adequate vendor. As a worker cooperative network, we believe in Principle 6: Cooperation among cooperatives, and we will work closely with applicants to identify a vendor from the worker cooperative community.
The applicant has full control over who is hired throughout the process.
Applicants fill out Application. Feel free to reach out if you have questions/need support to fill out this application
NYC NoWC Staff reviews application
NYCNoWC staff schedule a conversation with participants
If approved, Applicants fill out a Scope of Service Form
Applicants negotiate the terms with participants. NYCNoWC will do our best to make referrals where we can, but applicants have control over their own hiring.
NYCNoWC hires/pays the consultant directly, with approved contract
Applicants fill out a report back form no later than 1 month after contract. We want to hear how it went! If your consultant is good, we will recommend it to others. It will also be helpful to know if they were not a good fit and concerns that came up during the process.
NYCNoWC staff and applicants will have a follow up call about how it went.
Grants for the '21-'22 fiscal year have already been administered. Stay tuned early spring 2023 for updates on the new application launch