In December 2021, NYC NoWC hosted Advocacy Council elections, allowing NYC worker cooperatives to weigh in on the next worker-owners who will advance advocacy efforts on behalf of the NYC worker cooperative movement. Thank you to all the candidates and worker-owners for their involvement to the process.
The Election Results: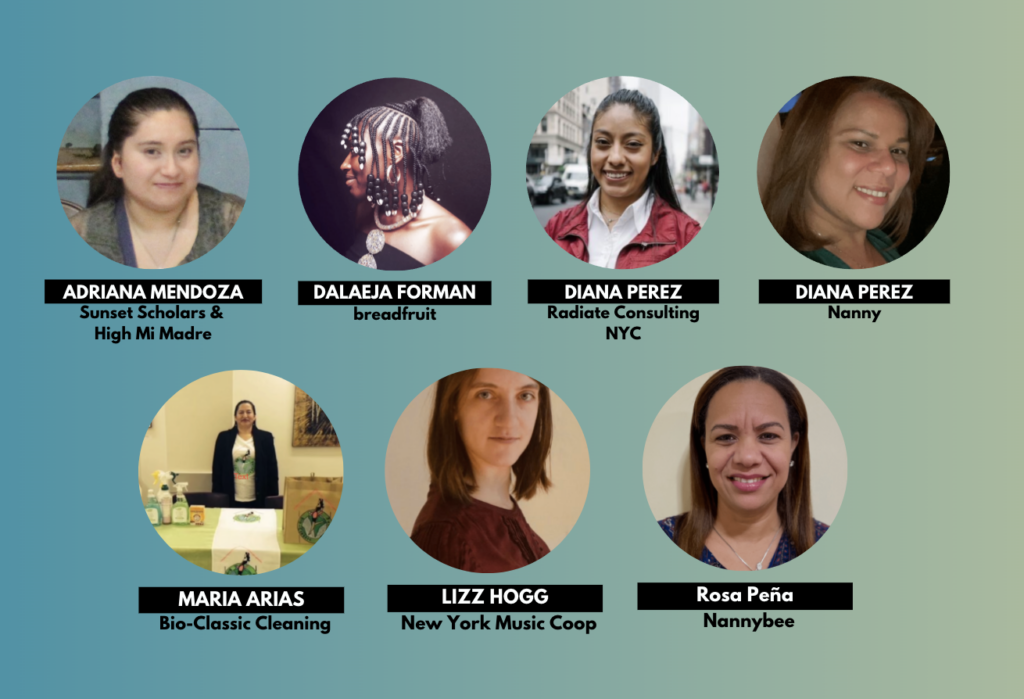 Learn more about the new Advocacy Council Members:
ADRIANA MENDOZA was born and raised in Brooklyn. She lived in Sunset Park, Brooklyn for 25 years and during that time was introduced to the world of worker cooperatives through seeing her mother become a founding member of a nanny cooperative in 2008. It was then that she became in love with the idea of a new economy, a cooperative economy, which led her to becoming a founding member of a tutoring cooperative in early 2015. Since then, she worked for a while at the Center for Family Life supporting worker coops in Sunset Park and served on NYCNoWC's board of directors from late 2016 through early 2019. Adriana currently sits on the board of directors for Alianza CUSP, a local network of worker cooperatives based in Sunset Park. 
DALAEJA FORMAN is a community organizer, curator, cultural worker and first-generation Caribbean-Brooklynite. As a hood-intellectual, their work focuses on political education, Black and Indigenous Autonomy, and community control through community preservation. Radical pedagogy, reclaiming public space, and liberatory action are central to Foreman's curatorial and organizing practices; specifically with the goal of prototyping counter-hegemonic ideologies and actions, combating internalized misconceptions oppressed people have of ourselves, and emphasizing resistance through direct action and cultural production. She is one of three founders of the woodworking cooperative, breadfruit, a woodworking cooperative bringing refurbished furniture, home goods and skill shares to the working class, poor and working-poor Black, Indigenous and People of Color in NYC.
DIANA PEREZ is an immigrant born in Mexico City. A graduate from City College of New York with a Bachelors in Economics and a Minor in Mathematics, Diana has a background in program coordination, community outreach, facilitation, translation and interpretation. She is currently based in New York City and a worker-owner of Radiate Consulting.
ELIZABETH POLANCO is am enthusiastic and dedicated to mutual aid. As an educator / organizer of the We Rise extension program at Cornell University, she trained on topics such as labor rights and how to organize ourselves by conducting workshops for 15 to 20 students. She engages in this work because she believes in the empowerment of our community and the importance of sharing her knowledge with new members who, like her, emigrated to the United States with a dream and a lot of hope. She is a worker-owner of Nannybee Cooperative.
LIZ HOGG is a Brooklyn native and current resident, professional musician and general manager of the New York Music Coop, which strives to create social justice through music education with private lessons, scholarships, workshops, and masterclasses. She is also a Worker Ownership State Advocacy (WOSA) Fellow at USFWC.
MARIA ARIAS is excited to participate in the advocacy council to learn more about working with groups. Learn how to find support for domestic workers, how to seek benefits for workers who do not have fixed salaries and also to educate myself more. She is a worker-owner of Bioclassic Cleaning.
ROSA PENA is a professional nanny, as well as being a domestic worker educator. I am a founding member of the Nannybee cooperative and an active member of a cooperative of teachers in my country in DR for more than 15 years. I consider myself a faithful believer in how important cooperatives are and what we can achieve when we come together as immigrants. I am also the organizing leader of the nanny training in my cooperative through the We Rise Program, I am also an active member of Carroll Garden, currently a National Ambassador Worker for the National Alliance of Domestic Workers and an active member in the alliance. I characterize myself as a great defender of workers' rights and fight for dignity and respect for our jobs. I am also the Nannybee's representative in the CUSP Organization participating in the membership and public relations committee. I feel very identified with the work that NYC-NOWC does, and I think that I can contribute my knowledge acquired through all this time being part of the Advocacy Council and thus fight with more courage for our cooperatives.