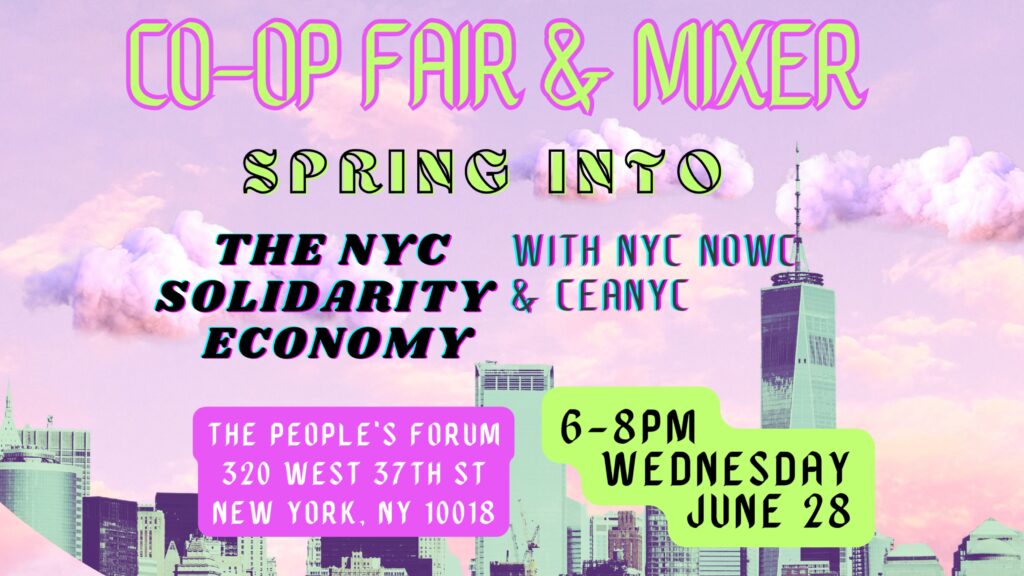 "Spring Into the Solidarity Economy" Fair & Mixer! – June 28th @ The People's Forum
The NYC Network of Worker Cooperatives (NYC NoWC) and The Cooperative Economics Alliance of NYC (CEANYC) are thrilled to invite you to our "Spring Into The Solidarity Economy" Co-op Fair and Mixer happening on June 28th at The People's Forum from 6-8pm!
This event will bring together members of the New York City solidarity economy including worker cooperatives, housing cooperatives, community gardens, and credit unions–among others–eager to showcase their services, products, and visions for a more equitable, sustainable, and just New York!
In addition, there will be presentations by current co-op members and refreshments throughout the evening making it an exciting and fun opportunity for those interested in learning more about the solidarity economy to meet members of existing cooperatives and see firsthand what a cooperatively-run city can look like!
Celebrate the power of solidarity and meet some of the local cooperatives who are transforming our city!
When: June 28th, 2023, 6–8pm
Where: The People's Forum (320 W. 37th St. New York, NY 10018)
NYC NoWC and CEANYC recognize that the COVID-19 pandemic is ongoing and that it is up to us to keep each other safe, so in the spirit of solidarity and community care, this event will be a masked one. We also ask folks who are not feeling well on the day of the event to please stay home and take care of themselves. Any questions regarding COVID safety measures can be directed to stella@nycworker.coop

We look forward to celebrating our city's vibrant and diverse co-op community with you all on June 28th!
¡Feria y "Mezclador" de las Redes de Cooperativos de Nueva York! – 28 de junio en El Foro del Pueblo (The People's Forum)
La Red de Cooperativas de Trabajadores de la Ciudad de Nueva York (NYC NoWC) y la Alianza de Economía Cooperativa de la Ciudad de Nueva York (CEANYC) están encantados de invitarle a nuestra Feria y "Mezclador" de las redes de cooperativos de Nueva York que se llevara a cabo el 28 de junio en El Foro del Pueblo (The People's Forum) de 6 -8pm!
Este evento reunirá a miembres de la economía de solidaridad de la ciudad de Nueva York, incluyendo cooperativos de trabajadores, de vivienda, jardines comunitarios y uniones de crédito–entre otros–deseosos de mostrar sus servicios, productos y visiones para un Nueva York más equitativo, sostenible y justo!
Además, habrá presentaciones de miembres actuales de varios cooperativos y bebidas refrescantes a traves del evento creando un ambiente emocionante y divertido para aquellos interesados en aprender más sobre la economía de solidaridad y oportunidad unica para conocer a miembres de cooperativos existentes. ¡Venga a ver de primera mano lo que puede ser de una ciudad administrada cooperativamente!
¡Celebre el poder de la solidaridad y conozca algunos de las cooperativos locales que están transformando nuestra ciudad!
Cuando: 28 de junio, 2023, 6–8pm
Donde: El Foro del Pueblo/The People's Forum (320 W. 37th St. New York, NY 10018)
NYC NoWC y CEANYC reconocen que la pandemia del COVID-19 continua y que depende de nosotros mantenernos a salvo, por lo que en un espíritu de solidaridad y cuidado comunitario, este evento será enmascarado. También les pedimos a las personas que no se sientan bien el día del evento que se queden en casa y se cuiden. Cualquier pregunta sobre las medidas de seguridad de COVID se puede dirigir a stella@nycworker.coop
¡Esperamos celebrar la vibrante y diversa comunidad cooperativa de nuestra ciudad con todos ustedes el 28 de junio!
To find out about our upcoming events, please sign up for our newsletter here.