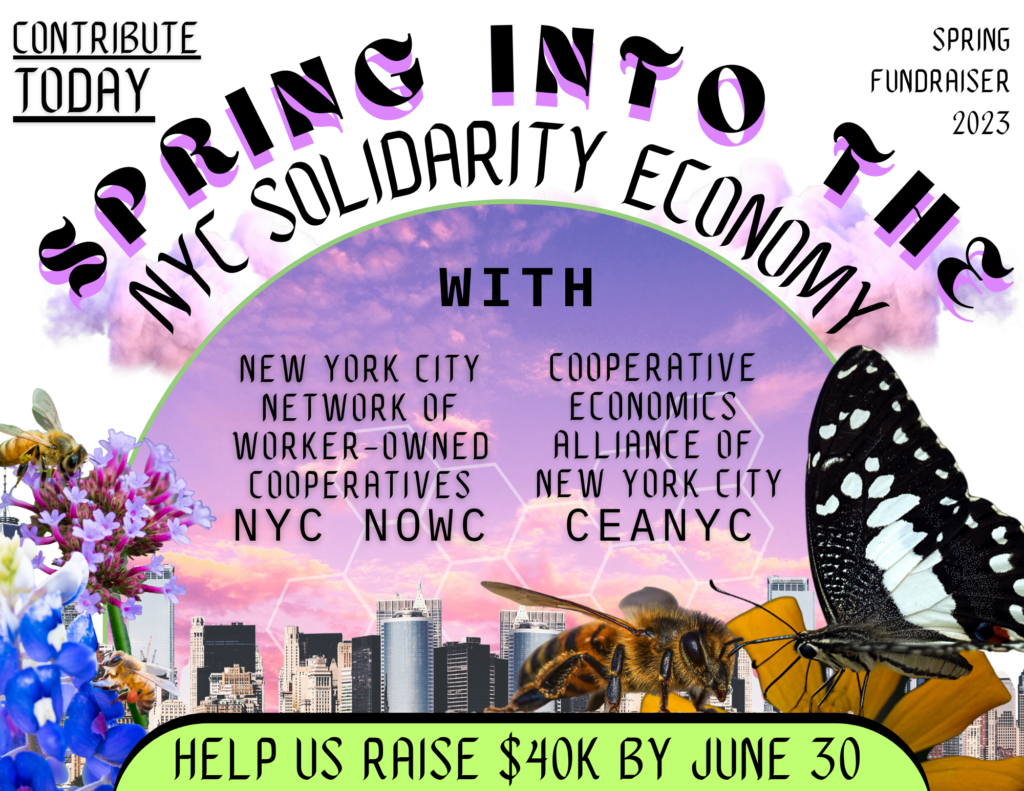 In order to grow and thrive, co-ops need each other – to share knowledge and resources, network, and work together to build a city that can sustain cooperatives and worker-ownership.
As networks building resources and power for cooperative businesses and the solidarity economy in New York City, New York City Network of Worker-Owned Cooperatives (NYC NOWC) and Cooperative Economics Alliance New York City (CEANYC) believe that the present and the future are worker-led and cooperative.
Make a contribution today to help us raise $40k by June 30th!
Through coordinating and building engaged networks, investing in cooperative leadership, and leading on policy advocacy, NYC NOWC and CEANYC are nourishing the growth of strong, networked cooperatives and solidarity economy in New York City.

Together this spring we are raising $40k combined to support our annual operating budget and sustain our work of supporting and building the power of cooperative and worker-owned economies in New York City.
---
More information about CEANYC and NYC NOWC
NYC NoWC is a grassroots membership-based organization dedicated to building worker cooperative futures in NYC. As the trade association representing over 4,000 worker-owners – majority of whom are Black, Immigrant, and Women of Color – the NYC Network for Worker Cooperatives (NYC NoWC) builds worker cooperative power through coop-driven advocacy, educational trainings, and resources for and by worker-owners. We are committed to a liberatory future guided by frontline workers and cooperation, and we stand guided by a movement of worker-owners building the solidarity economy we need now more than ever. NYC NOWC is dedicated to sharing and cultivating the educational, financial and technical resources of its members and supporting the growth of worker cooperatives for social and economic justice. We offer assistance to existing and new worker cooperatives in all communities within the New York City metropolitan area, with a focus on the development of cooperatives within marginalized communities.
CEANYC strengthens and expands community-led, democratically-controlled initiatives — from worker, financial and consumer co-ops to community land trusts and gardens, mutual housing, and low-income housing co-ops. Our goal is to build an economy based on values of social and racial justice, ecological sustainability, cooperation, mutualism, and democracy.
---
Find and support NYC's co-ops
CEA NYC Seeding Solidarity Map
NYC NOWC Membership Directory *Please note this is an interim resource while our web-based membership directory is under development. Thank you!
---
YOU'RE INVITED! JUNE 28TH: SPRING CO-OP FAIR AND MIXER
Save the date of June 28th to spring into the solidarity economy with us, co-op business owners, and enthusiasts in Manhattan at The People's Forum for a fair and mixer.
RSVP will be required. More info to be shared soon. Make sure you are signed up for our email updates to receive the latest.
---
What is the solidarity economy?
The solidarity economy is an alternative economic framework that emphasizes social and environmental justice through community and collaboration. It is a way of organizing economic activities that seek to address some of the economic and social inequalities produced by capitalism by prioritizing sustainable development and community well-being through cooperation, mutualism, and democratic decision-making. Economies of solidarity represent a transformative approach to economics that seeks to build more just, inclusive, and sustainable societies by reimagining economic relationships, systems, priorities, and practices. From worker-owned cleaning companies and bookstores to mutual aid networks, community gardens, housing co-ops, credit unions and more– the solidarity economy encompasses a wide range of initiatives, offerings, services, and support all aiming to improve the lives of the communities they serve. Key features of the solidarity economy are: community, cooperation, democratic governance, social justice, equity, and environmental sustainability.
---
More about NYC NOWC and CEANYC's collaborative fundraiser and event
'Spring Into the Solidarity Economy' is a collaborative campaign and event between NYC-NOWC and CEANYC. Our shared goal of $40k will be split between our two organizations.
CEANYC is also working with Resource Generation (RG) on a separate internal fundraising campaign hosted on GiveGab to build power with young people (18-35 years old) with class privilege and access to wealth. You can find more information about that campaign by emailing ali@gocoopnyc.org. 
NYC NOWC and CEANYC's work are distinct but mutually reinforcing. NYC NOWC focuses on worker-owned cooperatives while CEANYC focuses on the broader solidarity economy. We encourage you to support both NYC NOWC and CEANYC!